The gig went well and all events flowed smoothly. Not as pompous as the previous Suman Festivals (this year the festival for the suman was officially dead). With a relatively modest budget of 1 million pesos (according to the Philippine Star report posted below) this one looks like all those bucks went where they really should belong. Kudos to the Governor and her officials as well as Mr. Christopher Gonzales, the new Tourism Officer and the Chairman of this year's celebration.
Here are some pictures from the week-long celebration:
The opening of the 9th Aurora Surfing Cup at the Labasin Beach on February 15. The new watchtower was also inaugurated.
Also on February 15, the Agro Industrial Trade Fair was opened at the Capitol Grounds. A Beach Bazaar was also opened at Labasin.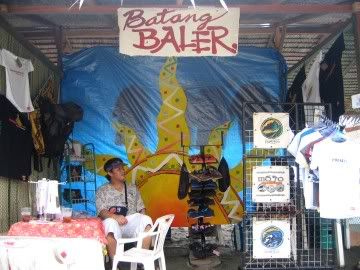 The Batangbaler booth at the Beach Bazaar – sun, sea, and shopping. Most of the booths were food shops and there were three tattoo shops but the top grossing store was the unofficial Ka Siming's sari-sari and turo-turo.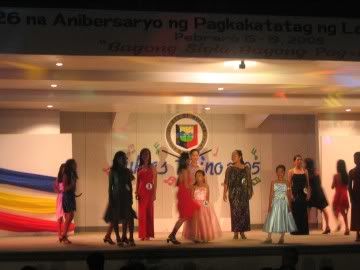 Aurora Pop Superstar. The best singers and dancers competed during the Tuklas Talino contest at the Capitol on the night of the 15th. With the program title I first thought it was a quiz bee.